Gaia Crew
The Gaia crew is an association of people that man Gaia. We also have the responsibility of keeping Gaia in good condition for sailing.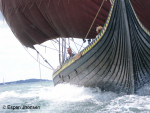 Anyone that wants too can join the crew and get unforgettable sailing experiences on Gaia.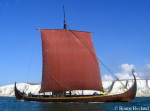 To make sure that Gaia is always manned with a qualified crew, we organize trips to practise sailing. This usually happens every Wednesday afternoon in the summer season, and we usually start from Museumsbrygga or from Huvikslippen in Sandefjord. We sail at 5:00 pm.
If you are not a member of the Gaia Crew you can become one by meeting us on a Wednesday sailing trip and pay the membership fee. We sail either Gaia or one of the smaller boats we have. One of the smaller boats, a 10 metre copy of a boat found in the Gokstad ship burial is also owned by the city of Sandefjord.
We also go on weekend sailing trips, and usually we go on a 2 week trip during the summer holidays. It is a good idea to give notice that you want to join one of the longer trips some time ahead, since a lot of people usually wants to join us for these trips. Pay attention to our web site for more information.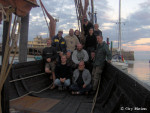 During the winter season we meet every Wednesday, for maintenance work and socialising. We also have weekend maintenance work so that people that live out of town can join in on the fun. Students at Skiringssal School also help out with a lot of the maintenance on the ship.